Last month, I showed you the work of Thomas Moran, an artist who helped make places such as Yellowstone and the Grand Canyon the famous geological wonders they are today. This month, I'm going to introduce you to his wife, artist Mary Nimmo Moran (1842-1899).
Image courtesy of http://clara.nmwa.org/index.php?g=entity_detail_print&entity_id=4562
Originally from Scotland, Mary Nimmo moved with her family to the United States as a child. Her husband Thomas Moran introduced her to etching, but she quickly took it in her own direction, becoming one of the most renowned landscape etchings of the later nineteenth century. She was elected to the Society of Painters and Etchers in New York, and was also the only female member London's Royal Society of Painters and Etchers, which consisted of 65 artists. Given how prominent the gender bias was at the time, Moran often signed her name M. Nimmo Moran, an approach that a lot of female artists and writers have used over the years.
Solitude, 1880, Image courtesy of http://argos-gallery.com/Argos_Site/Etch_Exh_09_pg1.htm
Mary is a part of what's known as the
Etching Revival
, an artistic movement that occurred during the nineteenth century. Originating in France, it made its way across Europe and over to America, and was essentially a reaction against the commercial, industrial nature of printmaking at the time, particularly against engraving and wood engraving. Although etching had been around since the 16th century, for the last 200 years or so it had primarily been used to reproduce popular paintings for commercial sale. Lamenting the soulness nature of mass production, artists rediscovered the etchings of such 17th-century greats as Rembrandt, and embraced the creative possibilities of etching as a medium. Similar to drawing, etching can accommodate a wide variety of styles. Plate tone, or the amount of ink left on a plate after it has been wiped, also became a creative tool, allowing artists to change the mood of each image depending on how much ink he or she chose to leave behind. In short, the Etching Revival helped artists to embrace printmaking as a creative art form in its own right, and not simply a means of reproducing other images. Mary Nimmo Moran was in the midst of this excitement with her own work, and succeeded in establishing a creative reputation that was independent of her husband.
Untitled, 1881, Image courtesy of http://www.aaqeastend.com/contents/thomas-mary-morans-local-etchings-sketches/
As an etcher, Moran worked directly from nature, and her prints often have a distinctly atmospheric character, successfully evoking the different textures of tree bark, grass, and foliage. Her subjects are similar to the types of scenes I like to sketch, especially when it comes to trees.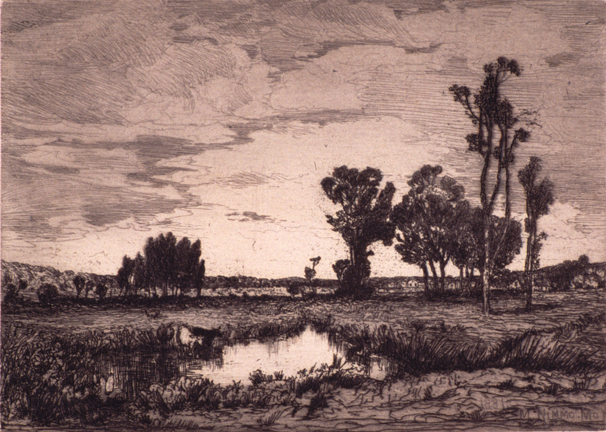 Image courtesy of http://helenadekaygilder.org/Moran/index.htm
I've always liked the confidence of her line work; her compositions are assured. Most of her etchings were done around her various houses particularly her home at Long Island, as she was raising two daughters.
Scrub Oaks, Amagansett, New York, Image courtesy of http://www.drawingsandprints.com/CurrentExhibition/detail.cfm?ExhibitionID=36&Exhibition=41
Tween the Gloaming and the Mark, When the Kye Came, 1883, Image courtesy of http://neartexchange.com/neart/artist/474



Moran died relatively young in 1899 from typhoid fever. After nursing her daughter through the illness, she ended up contracting it herself. Still, within the span of about 20 years, she'd produced more than sixty etchings that continue to resonate with viewers today.
Conwy Castle, Wales, 1885, Image courtesy of http://adventuresintheprinttrade.blogspot.com/2011/04/new-york-etching-club-moran-clan.html
Want to learn more? Of course you do!
Websites:
http://nmwa.org/explore/artist-profiles/mary-nimmo-moran
http://clara.nmwa.org/index.php?g=entity_detail_print&entity_id=4562
http://americanart.si.edu/collections/search/artist/?id=3404
http://www.ifpda.org/content/node/1552